After the great success of the visit to the farm Le Mortelle we talked about just few weeks ago, today we introduce you another excellence wine of Tuscany that you can discover thanks to the wine tours in Maremma arranged by La Cianella.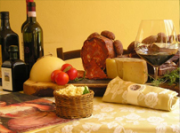 The excursion in the nearby Scansano begins with a visit of Casavyc  in Camporomano, a particular area of Tuscany that goes from the slopes of Mount Amiata to the Argentario coast, and it's followed by a walk in the medieval village of Scansano, with a visit to Archaeological Museum and the Museum of Vine and Wine.
The day ends with a tasting of the wine Morellino di Scansano accompanied by local products such as cold cuts of pork, wild boar and Cinta Senese guests of the Enoteca dei Mille, in the center of Scansano.
Food and wine tour in Scansano, what you need to know
Duration: from h.10: 00 to h. 17:00 including transfers.
Frequency: Every Thursday
Prices: from € 45 per person, the price includes:
round trip transfer
explanation of a professional oenologist
visit to the Vineyard Casavyc
visit to the village of Scansano
wine tasting and lunch at Enoteca dei Mille
Suitable for couples and / or children over 16 years of age.