As promised in our last post, here you are the favorite Acquacotta's receipe of La Cianella, farmhouse in Tuscany.
Ingredients for 4 people
4 eggs, 3 onions, 6 celery stick, 450g of ripe red tomatoes or peeled, 4 slices of stale Tuscan bread, 300 g of red peppers, 1.5 liters of water, 4 tablespoons extra virgin olive oil, 60 grams of Tuscan pecorino cheese, salt and pepper.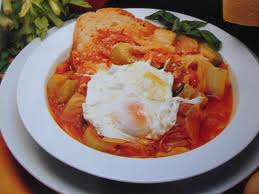 Preparation
Toast the bread to keep in each plate. Cook the onions in a little oil in a earthenware or cast iron saucepan with the celery and then fry. Add the tomatoes peeled and seeded to the peppers with salt and pepper and cook for twenty minutes.
Cook for a moderate heat, stirring often. Put to this fried 1.5 liters of boiling water and cook for half an hour.
Break the eggs into a saucer while keeping intact the yolk and then pour it into the pot with the soup boiling, lower the heat and cook the eggs "poached" for 3 minutes.
Draw the eggs with a slotted spoon and put each ones on a slice of toasted bread, sprinkle with cheese and cover with the hot soup.
Let you tempted from the Tuscany flavours and contact us to check the rooms avaliability!